ARASH YASREBI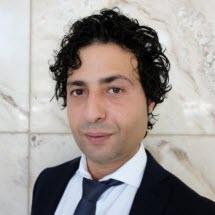 Founder and Attorney at Law
Arash is licensed to practice in California Courts, Federal Courts, and the United States Court of Appeals for the Ninth Circuit. Arash has extensive experience in a wide range of practice areas including Real Estate Litigation, Personal Injury, Transactional Law, Law of Contracts, Formation of Limited Liability Corporations, Divorce and Marital Agreements, Estate Planning, Petroleum Contract Negotiations, Sanctions Laws and Office Foreign Asset Control. However, his passion and main focus are the Immigration and Nationality Laws.
Arash is a familiar face at most California detention centers, where immigrants are commonly held. Arash's personal belief is that the criminalization of the efforts of men and women who simply want to create better lives for their children is severely unAmerican. Consequently, Arash also appears frequently before the San Francisco Immigration Court and is in frequent correspondence with the San Francisco Immigration and Customs Enforcement (ICE) Field Office, and the San Francisco Asylum Office. He has also argued cases before the Chicago Immigration Court and does not hesitate to get behind the wheel or on a plane in pursuit of justice for his clients.
Arash feels a deep connection to all immigrants, and especially to the undocumented immigrants with whom he shares a similar story due to the fact that he himself came to America at the age of 15, speaking no English, and having jumped through all kinds of hoops over a 12-year period before finally becoming a U.S. Citizen. Not only does Arash understand the immigrant experience in America, he has lived and continues to live the life of an immigrant every single day.
AREAS OF PRACTICE
Immigration
Citizenship and Naturalization
Contracts
Permanent Residency (Green Card)
Asylum
Business&Commercial
Estate Planning
BAR ADMISSIONS
California
U.S. Court of Appeals 9th Circuit
U.S. District Court Northern District of California